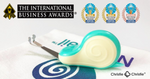 This August saw our small business, Christie & Christie® Pty Ltd, named the winner of not one, not two, but THREE Stevie® Awards in the 18th Annual International Business Awards® for our must-have baby product, the Nail Snail® 3-in-1 Baby Nail Trimmer.
What are the Stevie® Awards?
The International Business Awards are the world's premier business awards program. All individuals and organizations worldwide – public and private, for-profit and non-profit, large and small - are eligible to submit nominations. The 2021 IBAs received entries from organizations in 63 nations and territories.
 As the ongoing COVID-19 crisis will prevent winners from receiving their awards on stage during a traditional gala IBA banquet, winners will be celebrated instead during a virtual ceremony on Wednesday, 8 December.
More than 3,700 nominations from organizations of all sizes and in virtually every industry were submitted this year for consideration in a wide range of categories, including Company of the Year, Marketing Campaign of the Year, Best New Product or Service of the Year, Startup of the Year, Corporate Social Responsibility Program of the Year, and Executive of the Year, among others.  This year's competition also featured a number of categories to recognize organizations' and individuals' responses to the COVID-19 pandemic.
Stevie Award winners were determined by the average scores of more than 260 executives worldwide who participated in the judging process from June through early August.
Which categories did Christie & Christie® win?
Our 100% Australian owned, family-run business employs a team of 5 work-from-home mums. Each of these dedicated ladies have their own set of skills, contributing to the ongoing success of Nail Snail®, with over 95,000 units sold since its launch in 2017. This year, Christie & Christie® has won GOLD in the Company of the Year – Consumer Products – Durables – Small category, with judges commending Julia for her innovative product the Nail Snail®.
 "This is one of the best nominations I have had the privilege of reviewing over the past 3 years that I've been judging Stevie's. Very impressive and innovative product that delivers value and happiness to customers. Nail Snail® has a huge opportunity for expansion and diversification."
This was our first year entering the International Business Awards and to receive such glowing comments from the judges was an incredibly encouraging experience.
To our surprise this was not the only award and commendation we were to receive. Christie & Christie® was also awarded GOLD in the Company of the Year – Health Products & Services – Small category and BRONZE in the Company of the Year – Retail -Small category. Both awards were followed with more incredibly positive feedback from the judges.
"Wow! Just Wow! Exceptional entry that ticks all the boxes for product, promotion, and presentation, and a standout success story to represent any 'mompreneur' anywhere!"
"What a product! Where was it when I needed it? I have had more than my fair share of tears in this space! Neat and smart tool, being developed and sold by a team of focused business people and parents. Really well done! I'm intrigued where you will go next - this clearly has a global application.
"
"Excellent product and a lovely innovation for a segment that needs considerable care - babies. The organization has, clearly done well, and its efforts are laudable.
"
 Julia Christie, our CEO and the creator of the Nail Snail® describes the wins as "Amazing achievements for our business, to receive such high praise from the judges, whom have in many cases been judging these awards for years, is truly humbling. The Stevie's are something I've always wanted to enter Christie & Christie® into, and to have been awarded THREE awards during such a tough time for all small businesses is reaffirmation that my product is making a difference and we're on the track. I would also like to extend my congratulations to all the other winners this year – well done! Especially considering how challenging the last 18 months have been for us all, it really is a great achievement, you should all be so proud."
Stevie® Award judges include many of the world's most respected executives, entrepreneurs, innovators, and business educators.  More than 1,000 professionals worldwide participate in the Stevie® Award judging process each year.  All Stevie® Awards entrants have access to all judges' comments about their nominations once the judging is completed. This has proven to be a valuable experience, with constructive criticism and points to consider for the global expansion of the Nail Snail® highlighted.
"What we've seen in this year's IBA nominations is that organizations around the world, in every sector, have continued to innovate and succeed, despite the setbacks, obstacles and tragedies of the ongoing COVID-19 pandemic," said Stevie® Awards president Maggie Gallagher.  "All of this year's Stevie® Award winners are to be applauded for their persistence and their resilience.  We look forward to celebrating their achievements with them during our 8 December virtual awards ceremony."
People's Choice Award Winners Announced
 The People's Choice Stevie Awards for Favorite Companies are an annual feature of The International Business Awards.  On the 6th October 2021, Christie & Christie was announced as the winner of the People's Choice Stevie® Award for Consumer Product - Durable category. An amazing achievement for our team. The worldwide public vote was conducted over the past month and a half, with the highest number of votes deciding the winners in a variety of industry categories. More than 86,000 votes were cast. To win, a category's leading vote-getter we had to receive at least 100 votes to even be considered.
 "The winners of the People's Choice Stevie Awards were able to activate and motivate their customers, employees, social media followers and other constituents to vote for them, and that is a testament to the healthy ties they have to those audiences," said Stevie Awards president Maggie Gallagher Miller.
We at Christie & Christie® would like to thank you, our valued customers, for your continued support, reviews, and recommendations. 
Details about The International Business Awards and the lists of Stevie Award winners are available at www.StevieAwards.com/IBA.
 More about the Stevie Awards
Stevie® Awards are conferred in eight programs: the Asia-Pacific Stevie Awards, the German Stevie Awards, the Middle East & North Africa Stevie Awards, The American Business Awards®, The International Business Awards®, the Stevie Awards for Women in Business, the Stevie Awards for Great Employers, and the Stevie Awards for Sales & Customer Service. Stevie Awards competitions receive more than 12,000 nominations each year from organizations in more than 70 nations. Honoring organizations of all types and sizes and the people behind them, the Stevies recognize outstanding performances in the workplace worldwide. Learn more about the Stevie® Awards at www.StevieAwards.com.