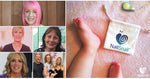 Expectant first-time parents delving into the unknown world of preparing for a newborn baby are full of hope, but often lack the experience and knowledge necessary to get everything just right. Understanding the vital role of a midwife can help.
How Do You Prepare For A Baby?
Truth be told nothing really prepares you for the arrival of your brand-new baby. So tiny, so new, needing our protection and dependent on us for their survival. It's a daunting task. The best any of us can do is arm ourselves with valuable information, ask countless questions and surround ourselves with people we have entrusted to impart wisdom and share their experiences. One of the key people to have in your trusted circle whilst preparing for your new baby is a Midwife.
Midwives play such an instrumental role when it comes to childbirth, helping us during this exciting chapter of our lives. They support us throughout both pregnancy, labour and birth as well as the days and weeks after our baby is born. They help us with their wide range of valuable knowledge.
As parents we hope that we can take some vital snippets from every conversation or article that will make us more prepared than they were the day before. For the most part, we rely on friends and family. However, when it really filters down, it's the professionals' expertise and skill that we really need to take on board. 
Midwives and Doctors play an integral role in education and informing parents on how to care for not just their baby, but themselves as well. That is why the medical professionals role within our communities and our interactions with them are so essential. 
A midwife is a health professional trained to support and care for women during their pregnancy, labour and birth. They help you to stay healthy in pregnancy and, if no complications arise, to give birth with little intervention. Midwives also care for you and your baby in the first few weeks following the birth.
A Midwife's Role During Pregnancy
Your midwife will usually:
Check your baby's health, growth and position

Advise on or help with hospital bookings and routine tests and checks

Give you educated support and advice

Help you prepare for labour and birth
A Midwife's Role During Labour and Birth
Midwives will support you through labour and birth. They can:
Give you information, encouragement, and emotional support

Monitor your progress and suggest strategies to help your labour

Monitor your baby's heartbeat and other vital signs

Offer you pain relief or arrange for a doctor to administer it

Help deliver the placenta and afterbirth

Get extra medical help if needed
After The Baby is Born
Your midwife will care for both you and your baby immediately after the birth. They will check on both the baby's and the mother's physical wellbeing. These visits may take place in your own home.
Helping you with breastfeeding and settling your baby

Showing you how to bath your baby, take care of their personal hygiene (including nail care) and change nappies

Administering pain relief if needed

Carrying out some routine health tests, such as newborn screening
It's within this last arena, after the baby has arrived, that we at Nail Snail® completely appreciate and admire the role of the midwife. 
With so much to focus on and remember, too little time prior to baby's arrival is spent explaining the benefits of proper nail hygiene. The care of baby's fingernails and toenails is important and this is where the role of your midwife is key. Midwives help to educate parents on how to trim their baby's nails. 
Increasing numbers of medical professionals now recommend the Nail Snail® as the perfect tool for trimming babies nails.
Keeping baby's nails short from birth, prevents any number of unwanted side effects. The nails of a newborn baby can be quite long, are razor sharp, tiny and extremely delicate. They can have the same effect as giving a paper cut, they are fine and can very easily draw blood. A newborn's fine motor skills are uncontrolled, their hands are often held close to their faces. This is a familiar position from being coiled and enclosed within the womb. However, without the amniotic fluid to protect them, their faces become easily scratched and scarred. 
Mittens whilst they may sound like a good idea, however they are not a good solution. Mittens restrict movement, tactile development, and parent to child connection. They also become a moisture trap for fluff and grime to build up. 
It has been through our diligence in educating and training people on the benefits of using the Nail Snail® as a baby nail trimmer we have met a diverse range of people. From parents and carers, to health professionals, doctors, obstetricians and midwives. 
To support parents to have the best in nail care for their children, we have created connections with some of the most trusted and influential people specialising in the care of babies and children. 
We work closely to create personal and professional relationships with medical professionals, including:
Sarah Tooke – leading birthing and expert midwife

Pinky McKay - Australia's most recognised breastfeeding expert and best-selling author,

Katie Mugan - Lactation Consultant and Paediatric & Public Health Nurse

Judy Ross - Registered Midwife and Maternity Services Manager of Gold Coast Hospital

Dr. Genevieve Bishop - Obstetrician and Gynaecologist at John Flynn Private Hospital 
Sarah Tooke
Sarah Tooke is a leading birthing expert and midwife with over 10 years experience. She represents
the Gidget Foundation which supports the emotional well-being of expectant and new parents. Sarah was the winner of the prestigious HESTA Australian nursing and midwifery award for Team excellence 2017. Whilst representing the Gidget Foundation Sarah and Julia met at the Baby and Toddler Expo where she was introduced to the Nail Snail®. 
Taking her knowledge and experience Sarah has created her own online resource 'Childbirth Education Online'. Which features online antenatal classes and an online shop. Her antenatal classes help guide parents-to-be through the 'all you need to know' of labour, childbirth and early parenting. Julia was honoured to have the Nail Snail® handpicked to be amongst Sarah's top products for parents. With a strong focus on quality, practicality, and whenever possible, organic and biodegradable, she selects products which align with her ethos 'Good for you, good for your baby and the planet'. Sarah has even curated the 'Ultimate Mum and Baby Box' filled with practical products for mum and bub, which contains her must-haves, including the Nail Snail® 3-in-1 Baby Nail Trimmer.
Pinky McKay

Pinky McKay is Australia's most recognised breastfeeding expert. She's an International Board-Certified Lactation Consultant (IBCLC) and best-selling author of 4 titles including Parenting By Heart, Sleeping Like a Baby and Toddler Tactics . Pinky specializes in gentle parenting styles, that honour mothers' natural instincts to respond to their babies. Her books are endorsed by The Australian Breastfeeding Association and La Leche League International.
Pinky's 'get real', no-nonsense approach, along with a blend of humour, sharp wit and wisdom, make her an expert source for national publications and major network TV. Her real-world experience stems from being the mother of five and grandmother of three.
She understands the importance of caring for both mother and child and has done numerous social media collaborations with the Nail Snail® team to promote the benefits of the Nail Snail® as a baby nail trimmer to her followers. 
Breastfeeding can be a tricky task to master and having all the right tools on hand can make the whole process so much smoother. Short nails during breastfeeding lead to fewer painful distractions and ensures the comfort of both the mother and child.
As a sought-after guest and keynote speaker at seminars for Health Professionals and parents, Pinky has spoken across Australia, New Zealand as well as the United States and has presented a popular TEDx talk, 'Surrender is Not a Dirty Word'. Her reach extends worldwide through her books, e-programs, blogs and highly engaged Facebook pages – Pinky McKay and the Boobie Bikkies® which offer a wealth of support and evidence-based information to breastfeeding mothers.
Katie Mugan
When Katie Mugan began her nursing career it didn't take long for her to discover paediatrics was where she wanted to be. It wasn't until after travelling here to Australia and working in Melbourne, that she was particularly floored by the amazing support offered in our hospitals to new mothers, to help them begin their breastfeeding journey. Upon returning home to Ireland, Katie has since worked tirelessly to make a difference to mothers and newborns by providing them with better antenatal education, so that they can be well equipped with practical knowledge and prepared for when their precious little one arrives. 
Katie provides online breastfeeding preparation and newborn care classes and home post-natal visits, as well as live chats, social media stories and plenty of helpful breastfeeding journey and educational posts on Instagram. Initially, within her role as a breastfeeding and lactation consultant, she did not promote any products in any of her classes or social media, that is until Nail Snail® came along. 
Katie loves the Nail Snail® concept so much (after our Irish distributor Wonderbubz sent her one for use on her own child) that she now actively recommends it to all new parents as a must-have baby product!
Judy Ross
Judy Ross is a Registered Midwife and the Maternity Services Manager at the Gold Coast Private Hospital and has a wealth of knowledge and experience on all things baby. Judy and the Maternity Services Team work to provide the best possible birthing experience and care to all expectant mums and dads, supporting them throughout their journey to parenthood. 
The newest member of the Nail Snail® team, Billee, can attest to amazing work they do.  Judy helped deliver her baby Kash! Knowing how stressful trimming tiny nails can be, Judy is extremely supportive of the Nail Snail®, in fact, she even encourages all new parents to go and purchase a Nail Snail® from the Chemist located at the hospital before they even go home.  Her recommendation of the Nail Snail® as the 'best investment of your life' is absolutely one of the best feedback comments we've received. 
Dr Genevieve Bishop
Dr Genevieve Bishop is an Obstetrician and Gynaecologist in private practice based at John Flynn Private Hospital, who shares a personal connection with Julia (Inventor of the Nail Snail® and CEO of Christie & Christie®). Dr Bishop helped deliver Julia's third child, Liandra. She was a wealth of support along with a host of amazing midwives who helped Julia through the birthing process.
Dr Bishop believes in a woman centred approach for lifelong care.  She also understands that childbirth is not only about making babies, but making mothers strong, competent and capable, who trust themselves and believe in their inner strength. 
She strives to treat all her female patients with appropriate management both medically and surgically to help them achieve an optimal and fulfilling life. 
Dr Bishop is passionate about the care of her patients and strives to provide the best in Gynaecological and Obstetric care for her ladies. She recognises the benefits of using the Nail Snail® Baby Nail Trimmer and the superior design features which make it easier, safer and faster than baby nail scissors, baby nail clippers and nail files and is a proud stockist of the Nail Snail® in her practise at the John Flynn Private Hospital.
It is through these medical professional connections with the Nail Snail® team that we see the benefits of seeking professional advice and care for those we love and want to support (including you!). 
The role of a midwife and key medical professionals is important to understand and make the most of  when you are preparing to welcome a new baby into your world.
When we have the best knowledge and are equipped with the best tools (including the Nail Snail®), we can tackle anything. 
We sincerely hope that you have a positive experience becoming a new parent and are equipped with the best knowledge and experienced professionals to help you. 
If you'd like to stay up to date with Nail Snail® and gain a Maternity Bag Checklist compiled by our very own Nail Snail® team, subscribe to our bi-monthly newsletter.
Co-Authors: Summer Vrhovac & Rachael Gazley