Baby Nail Trimmer Designed To Last 30+ Years!
Nail Snail® is invented by Mom of 3, Julia Christie. It's a 3-in-1 Baby nail Trimmer that trims across the nail. No other nail trimmer, or nail clipper or nail scissors does this. It has no moving parts and no motors. The Nail Snail® lets you trim baby and children's nails accurately and with confidence, reducing stress for the both parents and babies.
This section doesn't currently include any content. Add content to this section using the sidebar.
Easier Safer Faster Nail Trimming
What a challenge trimming tiny nails can be. Traditional baby nail clippers can make it impossible to see if you're cutting nails, or skin! 
Biting nails can cause infection and easily spread nasty germs. 
Only using a nail file takes such a long time.
The Nail Snail® 3-in-1 Nail Trimmer is an affordable alternative. It can be safer, cleaner and faster PLUS more versatile.
A complete nail care system for babies and children from newborn until their 6th birthday.
Nail Snail® Product Features:
- Easy to use 'v' shape precision trimmer 
- Built in Nail File
- Under Nail Cleaner
- Large ergonomic easy-grip handle
- Multi-directional cutting
- No batteries or noisy moving parts
- Compact high-quality construction
- Medical-grade stainless steel
- Dishwasher safe
- Suitable for babies and children (0 - 5 years)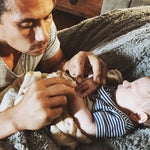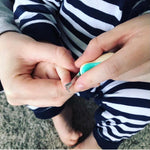 Baby Nail Cutting With A Difference
The revolutionary Nail Snail® 3-in-1 Baby Nail trimmer is trusted and used by over 95,000 parents worldwide. It simply makes it easier for parents concerned about cutting down on nails and risking clipping the tips of their baby's fingers and toes. Instead, the Nail Snail® trims across the nail with no noisy electric motors or moving parts. Plus there's a nail file in the 'belly' and the Nail Snail's tail acts as an under nail cleaner.
Make Nail Trimming Easier
1. Make sure your child is calm. After a bath or after a meal when they are nice and relaxed is often a good time.
2. Another perfect time for nail trimming can be after you've read a book as part of your bed time routine.
3. It is a nice idea to sing with them, if you're looking for inspiration, the Nail Snail® song is lots of fun. The song features Julia Christie and her children on vocals!  
4. Try using your Nail Snail® on a thin piece of cardboard to get used to how much force is needed and to build up your confidence. 
5. Have your child give your Nail Snail® a name. Make nail trimming time a moment of care and fun.
6. Offer a small treat or sticker after nail trimming time is done.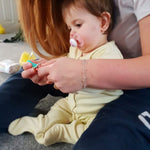 Setting New Parents Up For Success
We know there are so many firsts for new parents. It can be overwhelming. We are here to support parents. This is why we supply resources to help make parents lives easier.
Visit our 'How To Use The Nail Snail®' page for videos and resources to make it super simple and easy to use the Nail Snail®.
Discover Why Parents Love Nail Snail
Trimming baby nails can be daunting. Learning from other parents and their experiences can help. Jo from San Diego's Customer Review:
'I'm the new mom who accidentally nicked her baby's finger one week back from the hospital.
My little guy was way too squirmy for a nail file. Thankfully a mom in my online group recommended the Nail Snail®.
It saved my skin, his skin, & a lot of effort trying to get him to hold still. Nails take five minutes max & we're both less scared.
Recommending it to every parent I know for forever!!'