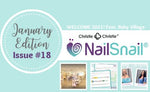 Welcome back everyone 😁
After a busy end to a crazy year, we're back at work and getting organised for what is going to be the biggest year yet for our small business, Christie & Christie® and the amazing Nail Snail®. 
We hope you've had a chance to rest and recharge and if you are lucky enough to still be on holidays … enjoy! We're keeping our first email for 2021 short and sweet but we would love to know what you would like to see more of for 2021? Are you a goal setter or do you prefer to take the year as it comes? Our first goal for 2021 is to increase our online presence and we would love for you to join us on either Facebook or Instagram, where we will be having our very first competition for the year!
As always, thank you for your support and keep your adorable pictures coming (tag @nail_snail_baby). Or if you would rather, you can leave us a review and help make life easier for parents all over the world by clicking here. Have a fabulous week everyone!
 Julia, Summer, Katrina, Rachel & Billee  -  The Nail Snail® Team
Whilst not a 'new' feature on our growing website, our Store Locator is still a super handy tool for when your neeeeeed a Nail Snail® but can't wait for postage. With over 800 stockists now, there are a number of places to buy a Nail Snail® from, simply type in your town and/or state and click 'Search' to find your closest store. Happy Shopping!
Just as the name suggests, Baby Village is all about people, most importantly their customers - baby, mum, dad, grandparent, family or friend. Outstanding customer service is one of their most impressive qualities, as is their amazing range on display in their beautiful store. The team offer exceptional product knowledge and their highly trained sales advisors are always there to answer any questions you may have. They are also running a fantastic Summer Sale at the moment (which includes the Nail Snail®) so if you can't make it in store be sure to check out their online range here.