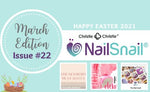 Hello everyone,
What busy few weeks we've had! We are currently juggling low stock while waiting for our next shipment and also have soft launched our new products - ahhh the joys of small business! Yes you read that correctly. Our new and highly anticipated, Teethers and Cold Packs, are now listed and ready to go, visit our shop here to purchase yours today.
This week we've got new international stockists to announce, a sneak peak of our next Nail Snail® colour and charity, birthday wishes for a VIP Nail Snail® team member ... and more! 
We'd also like to take this opportunity to wish you all a very Happy Easter! Thank you so much for your support & keep your adorable pictures coming (tag @nail_snail_baby). Have a fabulous week everyone and bring on school holidays!
 Julia, Summer, Katrina, Rachel & Billee  -  The Nail Snail® Team