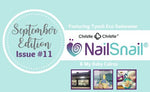 Speaking of amazing, make sure you check out the exclusive offer this week from Lisa at Tyoub - just in time for the warmer weather, their eco-friendly swimwear for babies and kids are genius.
As always, thank you for your support and keep your adorable pictures coming (tag @nail_snail_baby). Or if you would rather, you can leave us a review by clicking here. We promise, Julia does a happy dance every single time. Have a fabulous week everyone!
 Julia, Summer, Katrina & Rachel  -  The Nail Snail® Team
If you're anything like us, you absolutely love a reusable product. At Tyoub swimwear every product is reusable, sustainable and ethically made. From cotton face masks for the family, to their popular, comfy and durable reusable swim nappy. To top it off, their vibrant, eco-friendly swimwear range is made from recycled ocean plastic. Tyoub's baby and toddler, reusable swim nappy is one size and fully adjustable to fit a baby from 3 months to 3 years old. It is ideal for swimming lessons and beach days. Each swim nappy comes in a zip up wet bag, which can be easily popped into your change bag or under your pram for unexpected summer water play dates. How many times have you been caught out by a park with a splash pad, sprinkler or water feature that you simply can't keep the little ones out of? Now you can be prepared! And we've secured you an exclusive discount too:
To find more green parenting tips and check out their eco-friendly swimwear range head to www.tyoub.com.au.  Happy shopping!
Spring is here which also means ... BABY SEASON! Prepare for your Instagram and Facebook feeds to be filled with adorable squishy baby faces. Now is the time to make sure you have the perfect gift lined up for any upcoming baby showers. We aren't making this up, September generally sees a much higher birth rate than any other month - crazy huh? We found out why this statistic occurs and about the star sign of those born during this wonderful time of year. Grab a cuppa and take a few minutes off, to read our latest blog by clicking here. Remember we have:
 FREE Gift wrapping for the whole month of September!
Supplying all of the best brands (including the Nail Snail®) and servicing North Queensland families and beyond is the gorgeous boutique baby store My Baby Cairns. The family run store, keeps a large range of stock, so when you visit, you can take it home on the same day! They also offer free local delivery and have an online store coming soon. Click here to check out their contact details, location and opening hours or to make a product enquiry.
**If you are interested in becoming a stockist of the Nail Snail® please reach out to us either by replying to this email or by clicking here**
Please remember Australia Post is experiencing a high volume of parcels and letters at the moment, causing delivery delays, particularly to our Victorian customers. We sincerely apologise for any inconvenience caused. We are still dispatching orders daily at our end, but once they leave our hands it is out of our control. Thank you for your continued support, patience and understanding.
To view the latest information on Covid-19 delays via Australia Post click here.