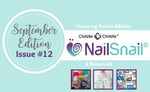 Hello everyone,
What an exciting week we've had! Did you spot the Nail Snail® in this month's Direct Chemist Outlet catalogue? You can grab a Nail Snail® for a fantastic price annnnnndddd if you spend over $49 in the store, you get a FREE baby gift bag worth $170! View the catalogue here.
This week we have an amazing offer from Pinky McKay and her Boobie Foods team, PLUS another new product sneak peek! Be sure to keep scrolling and check it all out.
As always, thank you for your support and keep your adorable pictures coming (tag @nail_snail_baby). Or if you would rather, you can leave us a review and help make life easier for parents all over the world by clicking here. Have a fabulous week everyone and enjoy the school holidays - how are they here again already?!
 Julia, Summer, Katrina & Rachel  -  The Nail Snail® Team
We, the Nail Snail® team, want to do everything we can to help parents discover the Nail Snail® and make nail trimming time easier, safer and faster. Whilst 2020 has certainly thrown us it's fair share of curve-balls, we are continually working to make our product readily available for parents both here in Australia and internationally as well. Take a read of our latest blog, all about the development of the Nail Snail® from that early morning 'eureka drawing' to our current expansion into the overseas market.
Wanting to spoil a special mum-to-be or new little one? Then you should definitely check out our newest stockist Bubsessed. Amanda has a wide range of gift packs and hampers to select from or you can fully customise your own from the products on her site – pretty cool huh? When curating her range, she selects only the products, which she as a mother has found useful, or those products that she would love to use for any future little ones. Only the very best have made the cut and this includes the Nail Snail®! Not after a gift pack or hamper? No worries. There are lots of goodies available just on their own as well, simply click here.
Welcome to the Nail Snail® community Amanda!
**If you are interested in becoming a stockist of the Nail Snail® please reach out to us either by replying to this email or by clicking here**
We absolutely love Boobie Bikkies! The all natural and organic Boobie Bikkies and Boobie Brekkie, DELICIOUS toasted muesli, have been specially created by IBCLC Lactation Consultant, Pinky McKay, Australia's most recognised breastfeeding expert, to support a healthy milk supply and nourish you as you breastfeed your baby. Pinky is an all around superstar and Julia and Pinky have shared many laughs at the Ausmumpreneur awards (where both PInky and Julia won awards) and the PBC baby expos. 
Their latest product, Boobie Brekkie, is all natural; wheat, dairy, egg, yeast and sulphate free, vegan and Halal friendly. It's also rich in Omega 3 fatty acids which are important for baby nervous system development – the essential fats in your breastmilk reflect the fats in your diet. And guess what? Pinky and her Boobie Foods team are giving away a box of delicious Boobie Brekkie exclusively to you, our Nail Snail® subscribers!
Simply purchase anything from the Boobie Shop online, and with every purchase over $50, they will gift you a full-sized pack of Boobie Brekkie! YUM
But be quick! This offer ends 12th October at midnight, be sure to use the code NAILSNAIL at checkout. View the range and place your order today by visiting https://www.boobiebikkies.com.au/ or just click the link above. Happy Shopping!
Yes, we're showing you another sneak peek of what's to come in our Baby Shower Gift Pack. This beautiful double pocket wet bag has two functional areas, perfect to keep in your nappy bag for soiled clothes or to keep a spare change of clothes in for bub. It features zipper closures, and a cloth handle (why not attach it to your pram?) and is made from waterproof materials to help keep spills and leaks to a minimum, while making it easy to clean. It will be serving a super important purpose too - a much more environmentally friendly and practical alternative to gift wrapping!