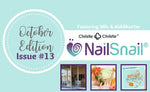 Hello everyone,
Well, well, well, Term 4, here we are! Were your little ones as excited as ours to go back to school? Is it too soon to start thinking about Christmas yet? Are you a last minute shopper or have you already started? Make sure you check back each fortnight as we have discount codes coming from even more amazing brands (this week check out our offer from KiddiKutter®) as 'shop local, support local' is even more important this year!
We are so excited to say that we, at Christie & Christie® have been nominated for the Australian Small Business Awards this year - thank you! Please, we would LOVE your vote; either by clicking here or the image below.
As always, thank you for your support and keep your adorable pictures coming (tag @nail_snail_baby). Or if you would rather, you can leave us a review and help make life easier for parents all over the world by clicking here. Have a fabulous week everyone!
 Julia, Summer, Katrina & Rachel  -  The Nail Snail® Team
Here at Christie & Christie® we believe that we have a responsibility to take the environment into consideration in all of our manufacturing decisions. We have designed our product, the Nail Snail® to last and be used by multiple generations - we won Gold in the 2019 Roar Awards for Best Baby Children's Eco Product because of this. To learn more about the Nail Snail® manufacturing process, our recyclable packaging or even what we do with any Nail Snail®s that are found to have a minor fault to the plastic part (10 out of 50,000 so far - not bad!) simply click here.
Milc (Mothers Infants & Lactation Consultancy) is a private midwifery service located in the beautiful city of Orange, in the Central Tablelands, NSW. Owned and operated by Cassie & Libby, both who are Registered Nurses, Eligible & Endorsed Midwives, Lactation Consultants, Child & Family Health Nurses and super mums! It was initially established to assist mothers and their babies with breastfeeding and as their business flourished, they have now expanded to provide a much-needed retail outlet for mothers and babies. Their gorgeous store also includes a breastfeeding space whereby you can feed your baby in a comfortable and supportive environment - no more car feeds! You can also shop online for a wide range of essential goods for both mum and bubs, simply click here to see more.


Welcome to the Nail Snail® community Cassie, Libby and Team!
**If you are interested in becoming a stockist of the Nail Snail® please reach out to us either by replying to this email or by clicking here**
Are your little one's as keen to help in the kitchen as ours? The multi-award-winning KiddiKutter® knives will let them chop anything from tomatoes to steak - but not their fingers! How, you ask? Well, the food-safe coated stainless steel blade features rounded teeth, which do not work in a 'chopping' action and instead requires your budding Junior Masterchef to use a 'slicing/sawing' action - which is a whole lot safer! Available in 6 gorgeous bright colours, they all have an easy-grip handle and cleaning is a breeze as they are dishwasher safe. They also have a beautiful range of aprons by Twiga Designs and something I know we'll be topping up on for summer, the Zipzicle Icy Pole Pouches. Maria and the team at KiddiKutter® are offering Nail Snail® subscribers an amazing deal detailed below.
But be quick! This offer ends 22nd of October 2020. View the range and place your order today by visiting www.kiddikutter.com.au.