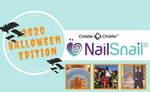 Hello everyone,
This week we're celebrating Halloween and thought we'd treat you to something a little different. Why do we celebrate you ask? Well, one half of Christie & Christie®, Julia's husband, Dr Arrlann Christie, was actually born and raised in Canada! As one of his favourite holidays growing up, it was something he wanted his own children to experience too and they've made some fantastic memories over the years. Plus we think with the year we've had, a little fun is just what the Doctor ordered!
We've got some of our very own tried and tested costume ideas, easy cooking ideas for the weekend, downloadables for the gremlins and our own 'spooky stories' for you to enjoy! Have a great weekend!
- Julia, Katrina, Rachel, Summer & Billee
We asked Arrlann a few quick questions about growing up with Halloween for our special this week...
What was your favourite lolly to receive? First off we don't have lolly's in Canada. We have candy. My favourite were coffe crisp chocolate bars, but only if I was lucky enough to get one. Second favourite would be a small pack of Whoppers (you'd call them Malteasers).
Favourite costume you wore for Halloween? I loved any costume where I got to put on fake blood ... which is just about anything. Even super heroes could have been in a battle.
Favourite scary movie? The Gremlins or Lost Boys
Did you play any 'tricks'? 
Well I grew so 
tall that I would have to trick the adults into thinking I was a little kid by kneeling at the back of the group until the candy was handed out. Then would get up and run to the next place (you always ran to try fill your candy bag). If anyone complained I'd yell out it was their 'trick' as I ran off into the night!
Yes this year is going to be a little different. Depending on your area, you may not be able to actually 'trick or treat,' and if you do, be sure to be Covid safe.Take a look at some of our years gone by costumes, maybe there's one the kids already have at home. Pop them on, play some spotlight, then watch a movie and enjoy some treats! We promise, the kids will still love it...
Have you had your very own spooky experience? You are not alone!
These stories
are 100% true, told by some of our very own team members. Coincidences? Shadows? Or real encounters? Grab a cuppa, sit back and have a read, we promise you will be left with goosebumps!
Who doesn't love pancakes on the weekend? Or any time for that matter! Make them a little different this weekend, just like Katrina and her little ones have. All you will need is a squeeze bottle and the most basic of ingredients and ta-dah! For a super easy but delicious recipe simply click the link here. Happy cooking!
Rainy afternoon or just looking for something new for the kids to do? We've found some great pages of colouring fun online, ready to print for your little ones to enjoy. Yes they are 
snail
 related- what else? All you need to do is click the
link
for your printable pages and enjoy! We'd love to see your kiddies creations, please remember to tag us if you get a chance @nail_snail_baby.