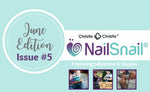 Hello everyone!
We are so excited to say that we are down to our last few boxes of the beautiful, Limited-Edition Jacaranda Purple Nail Snail®! It is proving to be the hot favourite at the moment and once it's gone, that's it! We are proudly supporting the Light for Riley Project - Immunisation Foundation of Australia, by donating $1 from each sale, of the purple, to this extremely worthy cause. We would like to say 'Thank you' for your support too. Although we will be sad to see this beautiful colour go, we are also looking forward to bringing you the next colour to add to your Nail Snail® collections. So stay tuned, you will be the first to know and be able to exclusively shop our exciting new colour soon!
We would love to know which colour would you like to see the Nail Snail® available in? We've got a few samples now, but need some help deciding!
More news this week, as we hope you've seen on our social media pages, the Nail Snail® is now available on Amazon USA. YAY! With the current ongoing postal delays, we encourage all our customers in the USA, Canada or Mexico to order through there as postage is much faster (and cheaper) at the moment. 
As always, thank you for your support, keep the reviews and pictures coming (tag @nail_snail_baby) we hope you all have a fabulous week!
- Julia, Summer, Katrina, Rachel & Emma
The Nail Snail® Team
As Australia's original and favourite silicone chew designer, we are sure the brand Jellystone Designs and their gorgeous creations, need no introduction from us. Their unique and colourful range, developed with close consultation of Occupational Therapists, includes teethers, toys and jewellery. PLUS our new favourite, the 'Calm Down Bottle'.  All of which are made from 100% non-toxic silicone. Chewing is not only a form of exploration for babies and children, but also an effective calming mechanism when it all gets too much. Plus teething, need we say more? This week we have an fantastic offer from our friends at Jellystone™  exclusively for you, our valued Nail Snail® subscribers, that we think you're going to love: 
Limited time only, so don't delay! Check out the range here.
Nail care is an important task that is often overlooked when preparing for your new arrival. Tiny newborn nails are very soft, but they are also extremely sharp (like little claws) which can lead to them scratching their own sweet, little faces or yours. Ouch! Whilst mittens are often an inclusion on hospital bag checklists to prevent babies from scratching, they don't solve the problem! Check out our full blog for our advice on when to start trimming your babies nails, how often and why the Nail Snail® is a must-have item in your hospital bag. Click here.
Combining discretion, style and versatile function, the Smylyn Bubby Covers are simply fantastic! They conveniently roll up to easily fit into nappy bags, are nice and lightweight to help prevent baby from sweat rash and double as a perfect after feeding burp cloth. Much more effective than the ol' muslin wrap tucked into the bra strap. They also make a fantastic baby shower gift and are a great edition to your hospital bag. Also available is a wonderful gift pack (currently on special) a super cute, Dad and bub's matching t-shirt set, the fabulous Nail Snail® and more! Check out the site here.
Back when we could attend baby expos (which we miss immensely) one of the most common things we heard was "I wish I had brought 2 last time!" The Nail Snail® is just so handy to have on-the-go for unexpected nail tears (for mum too) that it really makes sense to keep one in your nappy bag and have one at home. We've also found as parents of multiples, that having the option to "choose which snail to feed" or by having their "own" snail helps to reduce any resistance or hesitation towards nail trimming. Definitely a win in our books because negotiating with toddlers is tough!