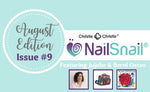 Hello everyone,
What a week! We are so incredibly excited to have thrown our hat in the ring for the Roar Success Awards. We have been nominated for the Best Baby Product 2020. Now to put our submission in. Shall we choose a video or written submission? 
We've also got something very special on the way soon. Take a peek below at just one of the goodies that will be included our NEW Baby Shower Gift Pack. Our own little munchkins love this book at story time.
As always, thank you for your support and keep your adorable pictures coming (tag @nail_snail_baby). We hope you all have a fabulous week. As a small business your support and word of mouth recommendation is so incredibly helpful and we thank you so much!
 Julia, Summer, Katrina & Rachel  -  The Nail Snail® Team
JuJube are still light years ahead of their competition. From the very beginning in 2005, their bags have sported features such as anti-stain treatments, anti-microbial linings, memory foam changing pads and machine washability, to name a few. They even have an unparalleled lifetime warranty. Yes, the bags are that good! There are patterns and sizes to suit every style and need, from the Midi Backpack to the Paci Pod. This month have just released the new Wonder Woman print - pretty fitting for all the super mums and dads out there! We've also secured you this amazing exclusive offer as well:


To check out the amazing range simply click 
here
Have you been trying to tell a friend about a product we've featured but can't remember the name? Or better yet, are you wondering if your photo was our picture of the week but can't find our email? We've got you. All of our previous newsletters are now available on our website YAY! To take a look back, simply click here.
Osteopath, Dr Bernadette Dlabik is extremely passionate about osteopathy and how it can assist patients to achieve their personal goals in health and well-being. Using her extensive knowledge of anatomy, physiology, neurology and nutrition alongside well-developed osteopathic techniques she aims to encourage the body's own self-healing mechanisms to create an optimum environment for restoring and maximising ongoing good health.
Bernadette is a big fan of the Nail Snail® and we are thrilled to have Coolangatta - Tweed Osteopathy as a stockist. You can book an appointment to see Bernadette at either Tarragindi or Coolangatta by clicking here.
**If you are interested in becoming a stockist of the Nail Snail® please reach out to us either by replying to this email or by clicking here.**
Getting your feedback is so incredibly valuable to us. It helps us know we are on the right track and helps others to verify that the Nail Snail® works for others. It's like 'visible' word of mouth. Recently we implemented Google Reviews on our website. This means, that every time someone purchases a Nail Snail®, Google asks, on our behalf, if you'd like to take a short survey about your purchase experience. If you say 'yes', after your purchase experience has completed (usually a few days after you have received your Nail Snail®), Google will send a follow up email. We are beyond thankful to those who have already completed a Google Review.
If you haven't already done so, you can leave us a review by clicking here.
Proving to still be the hot favourite at the moment, our Limited-Edition Jacaranda Purple Nail Snail®s are selling fast. Once they are gone, that's it! We are proudly supporting the Light for Riley Project - Immunisation Foundation of Australia, by donating $1 from each sale of the purple, to this extremely worthy cause. Having met Catherine and Greg Hughes at a number of baby expos, we are truly proud to support a cause we firmly believe in. For the Hughes to have turned a personal tragedy into such a positive force to help and educate others about immunisation - all while still grieving the loss of their little angel Riley - is awe-inspiring. They are such incredible people. We would like to say 'thank you' to you, our customers, also for your support and hope you are able to secure a Jacaranda Purple Nail Snail® before they sell out!