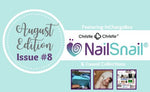 Hello everyone,
We are super excited to let you know that we have added gift wrapping to our online store. That's right. You can now shop from home and send a Nail Snail® perfectly wrapped (including a handwritten card) straight to the lucky parents-to-be. Perfect idea for those in lock down and unable to attend baby showers, or anyone who lives far away, wanting to send the perfect (and practical) gift.
HAVE YOU ENTERED THE LITTLE KIDS BUSINESS COMPETITION YET?
We have teamed up with our friends @littlekidsbusiness to give away $1200 worth of gorgeous baby products in 2 ULTIMATE BABY HAMPERS. This is a great opportunity to get your hands on a Nail Snail® and Canvas Bag. You could WIN either a Baby Boy Hamper or a Baby Girl Hamper. Go to @littlekidsbusiness to enter OR click the image below. GOOD LUCK!
As always, thank you for your support. Please keep the reviews and pictures coming (tag @nail_snail_baby). We hope you all have a fabulous week. Our thoughts go out to our wonderful customers in Victoria, hang in there!
- Julia, Summer, Katrina & Rachel

Sick of all the tech clutter on your kitchen bench? All the cords and time spent matching USB's and finding a free powerpoint too? Starting to worry your kids are spending waaay too much time on smart devices? Well, so was Melbourne mum and Entrepreneur Kate, the inventor of the genius product - InChargeBox®.  As the name suggests, you can now charge all of your smart devices from one neat and lockable storage box. Perfect to create healthy screen time boundaries and balance for kids and teens (and let's be honest - us as well!). We love the fact these beauties can charge 12 devices at once and you can pick from a wide range of colours. Our favourite is the leopard print. To check out this fabulous product, simply click 
here 
 - you won't be disappointed. 
You know WE love the Nail Snail®, but did you know other well-known and popular parenting sites think it's pretty fantastic too? If you need some LOL moments and reassurance you aren't the only one who's had a "clipping incident" take a moment to check out the In The Press page on our website, to read reviews from Babyology, Asking Mum's, Mum's Grapevine and one of our personal favourites - Mum Strife. Click here
We would like to extend a warm welcome to Rena and the team at Casual Collections - the newest stockist of the Nail Snail

®. Located in Mildura, Victoria, be sure to check them out for some of the coolest baby and kids clothes (including colour changing raincoats!) play pouches, wooden toys and the softest swaddles and wraps. We thank you for your support and wish you every success! Check out their online store 
here
.
**If you are interested in becoming a stockist of the Nail Snail® please reach out to us either by replying to this email or by clicking 
here
.**
Have you named your Nail Snail® yet? This is the perfect way to introduce the Nail Snail® to your little one, making nail trimming time fuss free and enjoyable. Have some fun with it! Or better still, let them pick out the name. We have  'Moo Moo' and 'Kajonna' at the moment 
¯\_(ツ)_/¯  and they tend to get re-named monthly LOL. We would love to hear what you've named yours.