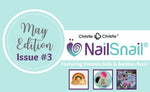 Yes! Winter is just about here and we, like you, are starting to feel the cold - albeit a lot more mildly here than our wonderful customers down south and inland are experiencing! We hope you are keeping warm and enjoying all of the extra snuggles with your loved ones that come along with this time of year. 

Welcome to the club for our new subscribers, we appreciate you joining us. Thank you all for your continued support of the Nail Snail®. Remember, if you love your Nail Snail® as much as we do, please leave a review, or post a photo and tag us (@nail_snail_baby #forhappylittlenails) so other parents and parents-to-be can find our amazing product. It is our dream for every parent with a child (under the age of 5) to have a Nail Snail® in their home. We have more stockists joining our team each week, so if you need a Nail Snail® last minute - ask for us by name at your local pharmacy or baby store. 
Read on for a special discount code for an amazing range of our favourite products, what's new on the blog and more tips and tricks from our home to yours. Hoping you all have a great week filled with warm cuppas and some undisturbed sleep! 
- Julia, Summer, Katrina, Rachel & Emma
The Nail Snail® Team
P.S. Totally sorry if you now have a certain song stuck in your head :)
Is your child a fussy eater? You are definitely not alone! Thankfully, Emondo Kids from the wonderful Sharon, have designed the most amazing, bamboo dinnerware range to help you take control of your families meal times and form healthy eating habits, that will last a life time. Their unique plates and bowls are made from FDA approved, 100% sustainable Bamboo and food grade materials and encourage your child to use their imagination and spark hands on curiosity with their food. The individual compartments on the plates also allows parents to portion their little one's meals, saving time, waste and heartache. 
Our favourite is the beautiful Rainbow Plate, which also comes with a suction function on the bottom - which means it stays where you put it, until you want to move it. Hooray! No more dishes and mess on the floor! They also have a fantastic range of Eco Cutlery, made from Wheat Straw, which comes in a handy container - perfect to take wherever you or your children go. Check out the gorgeous Emondo Kids range 
here.
The team at Emondo Kids are offering Nail Snail® subscribers an exclusive 20% OFF with the code NAILSNAILLOVE.  
Don't delay this code is valid till 31st May ONLY.
Online Baby and Maternity Boxes have become a popular choice when trying to find the perfect baby shower gift for a loved one or friend. They are able to be easily ordered from the comfort of your home. They are artfully curated, filled with carefully selected items, beautifully arranged in a gift box and delivered straight to the recipients door. What's not to love? It makes the entire gift-shopping experience, hassle free! The Nail Snail® is a must-have, essential baby item which you will now find included in many of these gorgeous hampers. 
To check out some of the amazing gift boxes featuring the Nail Snail® and to read why it is the ultimate baby shower gift click here. 
Are you looking for baby products that will make your life that little bit easier, without costing the earth and are, in fact, kind to it? Bamboo Basix (run by the clever and sweet Emma) is definitely a store you will want to check out. From their ultra-soft and super absorbent breast pads, to their durable and waterproof mattress protector, you will be sure to find something from their glorious range either for yourselves, or as a gift for the new parents-to-be. Their specialty range includes delicious lactation cookies, smoothie mixes, teas, candles, balsams, ice-packs and more. All of which have been specially selected to make life that little bit easier for parents - so of course you will find the best EVER baby nail trimmer, the Nail Snail®, there too! 
Visit the store and browse the luxurious bamboo range by clicking here.
Has your Nail Snail® arrived, but you are still feeling a little apprehensive how to use it, due to past negative nail clipping experiences? We totally understand. Before the Nail Snail®, we'd all had mishaps too! The first thing we recommend, is to watch our helpful tutorial video and carefully read through our How to Cut Baby Nails guide. Then, if you would like to practice first before using the Nail Snail® on your baby, we recommend cutting a plastic water bottle in half with scissors and then trimming off small pieces of the plastic edge with your Nail Snail®. We have found this to be the most similar to trimming your baby's nails.
When you are confident to use it on your little one's nails, remember not to start too low down and avoid cutting straight across (you don't want to accidentally cut into the nail bed). The wonderful thing about the Nail Snail is of you feel you are cutting too low, you can stop, pull out and try again. Carefully follow along the natural curve of the nail and then file any rough edges with the nail file on your Nail Snail's tummy. Remember if you have any questions, or concerns about your Nail Snail® we are here to help. Simply contact customerservice@nail-snail.com and we will get back to you as soon as possible. Happy trimming!