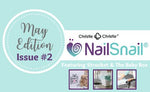 Firstly this week we would like to start with a big THANK YOU to everyone who purchased from our recent sale and to those who also took the time to wish Julia a Happy Birthday, it was truly appreciated. We hope that your orders have now arrived and you are loving your Nail Snail®'s as much as we do. We would really love to see your unboxings, reviews and pictures so please share and remember to tag us @nail_snail_baby. 
We would also like to take this opportunity to ask for your patience if you are still waiting on your order. They are being dispatched daily, however Australia Post is still experiencing delays so if you could please allow 10 business days before contacting customer service.
Hoping everyone had a wonderful Mother's Day filled with love and laughter (and maybe a few hours of relaxing), sending out our best wishes for the week ahead.
- Julia, Summer, Katrina, Rachel & Emma
The Nail Snail® Team
Just like a normal bucket (but better), the Strucket makes soaking simple and clean. Never fear to put your hand into the residual dirty, unhygienic, toxic mess that can be left in the bucket again. With the Strucket, you will never leave your items soaking for endless days again because the Strucket makes soaking simple and stress-free! 

Pop your items in to soak and when you return simply pull up the strainer, separate the items from the water and then drain using the outer plug without ever touching the water or the toxic mess in it! The Strucket is truly amazing, we have used it for soaking beautiful garments that need hand-washing, cloth nappies, the "whites" that always seem to need a little TLC, eco-friendly sanitary items and more. They also have FREE SHIPPING Australia Wide. To check out this amazing product Click Here.
Whether you've recently discovered you're expecting or are many months into the long wait for your precious baby to make their appearance, the thought of packing a hospital bag can be a daunting one. "What to pack? What if I overpack? Even worse, what if I under-pack? How can I possibly prepare for all the unexpected surprises that no one tells you about?". We definitely recommend having a Nail Snail® in your hospital bag for a number of reasons. Read more.
Forget the logistics of taking your newborn to the shops to buy baby wipes or the late night trips to the supermarket for nappies. The amazing team at the Baby Box offer every essential for your baby in just one box, delivered direct to your home, to navigate the first incredible month. These boxes contain the most beautiful, natural, organic and Australian goodies, including the Nail Snail®. To check out this wonderful pack Click Here.

Do you also have a baby hamper business or online store? We would love for you to add the Nail Snail® to your range, please don't hesitate to contact us for pricing and ordering information at customerservice@nail-snail.com or by replying directly to this email.
Finding it hard to keep your little one still for nail trimming time? Whilst we hear a lot of our customers use the Nail Snail® while their child is sleeping, we do actually recommend you trim nails while they are awake, because you need to have good lighting. We understand sometimes this is easier said then done.
 
So here are some of our best tried and tested ways to keep those wrigglers still: 
* Offer a piece of fruit or small snack
* Reward with a little treat afterwards like a sticker or a lolly
* Singing a special song (try the Nail Snail® song from our website click here.)
* Ask for help from other family members - your partner, brothers or sisters can all make great silly faces
* Or even try the TV - we are all big Bluey fans here!