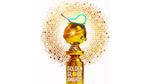 Ladies and Gentlemen! The
Nail Snail®
 has now been handed out to the Golden Globes nominees of 2019 in the
Secret Room Events
Celebrity Swag Bag! So incredibly excited to think that celebrity parents will also easily be able to trim their little star's nails! Check out all of the incredible gifts below.
The VIPs received one of
Secret Room Events'
signature gigantic goodie bags, bursting at the seams with multiple fun items. This one was perhaps their biggest one ever! The 'Family Bag' was created especially for parents of children under five. This included a
Nail Snail®
baby nail trimmer (but I have a feeling it would come in very handy in those tiny purses that are mandatory with awards show attire!) - See the swag bag featured in
TV Insider.
Some of the great gifts. Can you spot the
Nail Snail®
?