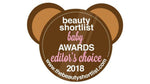 Tried, loved…won! This year's Mama & Baby Awards were a record year, with more entries and more "10" scores/exceptional feedback than ever, since the awards launched 5 years ago.
Thank you to all the brands who participated, we are delighted to present the winners! Categories cover Baby, Beauty, Health, Nutrition, Aromatherapy and Gifts, so there's a lot to love and discover on this year's list.
The Nail Snail® won the Editor's Choice in the Beauty Shortlist Mama & Baby Awards for 2018. 
"No other awards champion beauty brands, both established and new upcoming, like The Beauty Shortlist does, and it's no surprise that these awards grow in size and stature year on year. A true celebration of the best, the awards' impartiality and inclusiveness mean that there's an opportunity for every brand to take part irrespective of budget, size or provenance, and to share a platform that brings them wider recognition" - The British Beauty Council (March 2018)