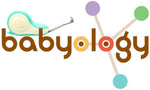 Babyology has listed the Nail Snail® as the BEST baby nail clipper.
With 1.2 million followers on Facebook, Babyology is THE Australian parenting site that provides a supportive and trusted community for parents and parents-to-be. With information and advice that celebrates the parenting journey in all its shades, Babyology offers original points of view that bring to life the very real, and sometimes challenging, world of parenting where daily life with children is something to be cherished and celebrated.
Not sure where to start with clipping your baby's speedily-growing nails? We've hatched a mini-roundup of three of the best nail clippers for Australian babies. Take a peek and get clipping!
1. The Nail Snail® 
The (stinkin' adorable) Nail Snail® makes trimming tiny nails a total breeze. It's a safe, simple, speedy and very snail-ish way to cut little ones' nails and is designed for use on newborns through to five-year-olds.
The Nail Snail is $19.95 and you can buy direct from Nail Snail® 

How to clip a baby's nails safely
If you're not quite sure what you're doing, here are some handy dandy rules to safely-cut and neat baby nails:
Press down on their fingertip to keep the skin well away from the nail
Hold your baby's hand firmly
Cut your baby's fingernails along the natural curve
Cut your baby's toenails straight across (not in a curve)