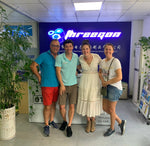 Julia Christie inventor of the Nail Snail® and CEO of Christie & Christie® Pty Ltd, ventured to bustling Hong Kong on a pilgrimage to meet the team behind the construction of her amazing product, the Nail Snail®. Flying solo, her domestic to international terminal change over was not smooth sailing. Running at full speed, through security, with barely a minute to spare, that once on the plane she shed tear of relief at making her flight. After checking in to one of Hong Kong's comfortable hotels, she rested up, only venturing out to find a bite to eat, as navigating a menu was more difficult than navigating the airport. 
On her second day, Julia was accompanied by her International Sales Team of John Little and Liz Starkie from New Urbanites. With the help of Scott (the head of manufacturing) they made their way through the maze of streets and avoided the political protest taking place in the centre the city. The population of Hong Kong is 7.8 million, and to Julia, it felt as though everyone had decided to take the train that day. Scott, who she had talked to so many times before (but this was to be their first meeting in person). 
Arriving at the factory headquarters of Threegon in China took about 2 hours by several train rides and a fascinating car ride to Shenzhen.  Julia was so excited to introduce herself and meet the team responsible for the high-quality manufacturing of the Nail Snail®. 
The factory foyer proudly displayed all of the items it makes and sitting alongside other highly successful and reputable brands was the Nail Snail®, Julia's heart skipped a beat. In the factory all the staff were all over 18, wore uniforms and each step of the process was conducted with such care and efficiency. The staff also enjoy on-site child care, 1.5-hour lunch breaks, meals and equal opportunity to perform jobs. Having a manufacturer of the highest standards is of paramount importance to Julia and Christie & Christie®.  
The immaculate working environment showed that smart engineering, ergonomics and job variation, to avoid complacency, had been carefully considered. Each step of the production process, involved quality control and all throughout the manufacturing process, each Nail Snail® was rigorously tested.  
Julia then went to task producing her very own Nail Snail®, moving from station to station, completing each step of the process and at the end was so excited to hold her very own creation. Seeing these working conditions first hand provided Julia the reassurance that the Nail Snail® is being ethically produced.  
She was so relieved to see that Scott, his team and the manufacturing process were exactly how she had hoped and always pictured in her head, leaving no room for any doubt. Seeing the factory was the pinnacle of a long journey. Bursting into tears, she saw how her clever idea had been turned into a tangible and mass-produced product. 
When it was time to go Julia surprised the team with some treats all the way from Australia; Tim Tams, Buderim Ginger, Arnott Biscuits and a host of other delicious goodies. Their smiling faces were so touched by the gesture. 
After leaving the factory it was time for a traditional Chinese banquet meal and a little shopping to pick out some souvenirs to take home to her own family. The next morning, she was homeward bound. 
As her whirlwind Hong Kong & China tour came to an end, Julia was left with a feeling of awe at just how far she had come. From a 4am doodle on a piece of paper, to a product now available worldwide, enjoyed by over 45,000 happy parents and carers, the Nail Snail® has most certainly been on an exciting journey.