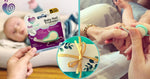 Are you getting ready for the baby showers and to celebrate the arrival of lots of new babies at the moment? It is no coincidence. 
My first child was born in September 7 years ago. I still remember the day my son was born. We were told that there were no beds as September is baby season  and unless I was serious (ha) then we has best just go home. My husband said "How do you feel?" I clutched his hand just as one mighty contraction hit and my waters burst. The midwife realised that yes, I was in-fact very 'serious' and we were squeezed in. Now when I look at it, I see how this timing and these numbers makes sense.
September heralds the start of Spring, known as the season for rejuvenation, renewal, regrowth and birth. Traditionally a higher rate of births are a culmination of 9 months of hard work, as mothers-to-be, who fell pregnant over the festive season from Christmas to New Year, are welcoming their babies into the world. This happy time spent with loved ones celebrating has seen September with higher than average birth rates and resulted in an annual baby boom.
Oxford University researcher, Dr Climent Quintana-Domeque said that "The season for birth is actually a planned decision. Mothers have a clear desire to target the 'good' seasons of birth of spring and summer and often manage to do so" aligning their maternity leave to enjoy the spring and summer holidays and of course the warmer weather.
Babies born in September by the horoscope are helpful, dedicated and hardworking Virgos or charming, loveable, fair and sincere Libras. Just like having a fresh bundle of joy, Spring brings light and colour into the world in a refreshing way.
2020 has bought upon us a new way of living, since first discovering COVID-19, families have had to adapt to an ever changing societal norm to maintain and preserve the health and well-being of the people within it. The way we gather and celebrate life's milestones is just one of the ways we've had to adapt.
New mothers, or parents-to-be, traditionally celebrate the impending birth of a child by gathering with friends and family. Gender reveal parties have gained popularity with many parents choosing to forgo finding out the babies gender until a hosted party reveals the gender to the parents. Friends and family choosing to burst balloons with colourful confetti or cut into a cake to reveal pink or blue inside. And Baby Showers gather friends and family to treat the mother (or parents-to-be) to a party were baby themed games are played and most importantly, they are showered with well wishes and love. At both types of events, it is customary to provide a thoughtful baby shower gift in anticipation for the baby's arrival. Social distancing has meant that many expectant mothers are missing out on the festivities all together or opting for an online celebration instead. Regardless mothers-to-be need to feel special at this time as carrying a baby is not a task for the faint of heart.
Letting someone know you care and are thinking of them, whilst we are social distancing, is an important one. Ensuring that the physical and mental well being of the people we care for is essential and it makes us feel good to care for others. So, if you have a friend or relative who is expecting a Spring baby or you just want to shower a friend or relative with a little love, why not show them you care by sending them a lovely heartfelt gift for their little someone?
The Nail Snail® makes the perfect Baby Shower gift, or baby gift for use on children aged 0-5. Trimming babies nails is safer, easier and faster with the Nail Snail® 3-in-1 baby nail trimmer, which trims, files and cleans under baby's soft nails. To keep it safe and clean, add a Nail Snail® Canvas Storage bag which features our beautiful Nail Snail® logo.
PLUS for the month of September to celebrate Spring and help you show someone you care; Nail Snail® are offering all retail purchases directly through www.nail-snail.com FREE Gift Wrapping.
Simply place your purchase between 1-30 September 2020 and select Gift Wrapping at checkout.
Throughout the month of September when making your purchase of either our Turquoise Nail Snail®, Limited edition charity Jacaranda Purple Nail Snail® or Nail Snail® Canvas storage bag simply tick the box to add gift wrapping to your order, to receive your order personally gift wrapped.
To make it truly personal, why not add a short note to be handwritten on a small gift card to be attached to your Nail Snail® order? We can even send it directly to them and take out all the leg work. We'll organise it for you.
Take joy in knowing you have made parenting so much easier with the gift of a Nail Snail® the best ever baby nail trimmer. 
Share the love this Spring and enjoy our free gift wrapping throughout the month of September. Connect with the ones you love and let us help you to show just how much you care.
Article Co-Authored - Summer Vrhovac & Julia Christie