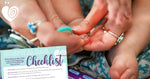 Are you looking for the essential Maternity Hospital Bag Checklist? For most parents, either first-time or returning, packing up your maternity hospital bag is a task that, to be honest, can be a little overwhelming.
No one wants to be "that person" checking in to hospital with soooo much luggage that it looks like they are headed for a month-long holiday. Having a baby is definitely not a holiday. However it would be nice to be prepared to make the experience as comfortable as possible. You also definitely don't want to under pack and be sending your other half out for jumbo maternity pads (a.k.a 'surfboards'). 
You need to find that happy place in the middle. Essential items packed in your bag ready for your impending hospital visit for you and your precious newborn plus a few extra goodies for self care. Plus it's super important to cater for the 'just in case,' because accidents happen, and childbirth is a little unpredictable. Whilst you cannot prepare for everything, it doesn't hurt to learn from those who have been through it before and be as prepared as you can be.
When you start to go down Google rabbit hole, searching for the perfect hospital bag checklist, the results are all pretty standard. But what most of these leave off are the ugly (and sometimes harsh) truths of what you need in your maternity hospital bag – which is actually the helpful stuff! 
The amazing thing about the Nail Snail® team is we are Mum's. Julia Christie, inventor of the Nail Snail and Co-Founder of Christie & Christie® is a Mum of 3 and collectively, the Nail Snail® team have 11 kids between the 4 of us. Let's just say we have A LOT of lived experience here.
L-R: Rachel, Katrina, Julia & Summer - The Nail Snail Team
We got to talking and realised there was so much we wish we knew before we ended up at the hospital. We thought we'd have a little brainstorming session and create our very own Nail Snail® hospital bag checklist for all the parents-to-be out there. 
But we didn't stop there, we also asked the question 'What do you wish was in your Maternity Hospital Bag?' on our Facebook and Instagram pages and had some great responses from the Nail Snail® fans. 
And whilst the popular wine/champagne suggestion didn't make the cut, we totally agree, a celebratory toast is well earned. So keep it chilled in the fridge for your triumphant return home 
There are so many little things to take note of, that we wish we knew BBB (Before Baby Birth).
Take undies for instance. Yes, we all know to pack them. But let's be a little more specific for you. Opt for the full brief with a high waist. 
Yes, you read that correctly. The full briefs. Also known affectionately as "granny undies." Seam free if you can find them. The more comfortable the better. Trust us you truly won't care what they look like. Plus if you end up having a c-section these bad boys won't rub your stitches. An absolute blessing and so much more important than what they look like. Get the darkest colour you can find, black is perfect. Why black full brief undies? Well the bleeding that follows after your placenta leaves a plate sized wound in your uterus (we're not making this up) is pretty intense. I haven't found a person yet who wants to deal with stains in their undies instead of having squishy newborn cuddles. Less laundry the better, right?
But seriously, we are here to help. Whilst we can't do your laundry, we can give you the ultimate checklist to use to pack your bag for your impending hospital visit. 
To get your hands on the Nail Snail® Hospital Bag Checklist simply pop your details in the Nail Snail® website footer below. You'll also then receive our bi-monthly newsletter (we promise it's not spammy!) with each edition containing exclusive specials and new product information.