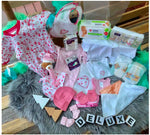 When planning the perfect baby shower gift for a loved one or friend, so many of us simply don't know what to buy. The options can seem endless! Thankfully there are a host of creative and talented people who have taken all the hard work out of cultivating the perfect baby shower gift. Marijana (a friend who runs a successful gift assistant business) tells me, "It's no longer about just choosing a few generic branded bath products and a bunch of nappies and twisting them into a nappy cake. People want products that are high quality, on-trend, practical, as well as being environmentally friendly, but their highest priority, is safety for their newborn." Once the handpicked items have been selected, they are tastefully arranged in a box or basket, personalised and then ready for delivery. Making the entire gifting experience streamlined and hassle free. Online baby gift boxes have become a popular choice for those needing a helping hand. Amongst the most popular choices for baby products are soft toys, newborn clothes from organic origins, silicone teethers, muslin wraps, burp cloths, bath products and organic skin care.  
A perfect addition to any baby shower gift or maternity gift box is the Nail Snail®. Awarded for its enguiniety in design, the Nail Snail® 3-in-1 baby nail trimmer, is rapidly gaining popularity as the No 1 baby nail trimmer.
Ticking all the boxes for what people want:
✔️high quality 
✔️on trend
✔️practical 
✔️environmentally friendly
✔️safe
The Nail Snail® is a true must have for any baby shower gift and the perfect addition to any baby gift box. The Nail Snail® will be the most practical gift you will ever give. It is designed to be the ultimate 3-in-1 baby nail care kit, do away with baby nail scissors, baby nail clippers and baby nail files. It can be used right form day one on a brand new, newborn. The Nail Snail's compact design features an under nail cleaner, recessed v shaped trimming blade and gentle nail file and promises to make baby nail care safer, easier and faster. Its award winning, environmentally friendly design, means you won't have to sharpen it, replace parts or contribute to land fill. Designed to last 30+ years, it's the gift that every parent wants and will actually need. So if you truly value your friend or loved one you know they only deserve the very best. You can find some of our wonderful baby gift box stockists HERE. 
So sit down, relax and get out your smart device. Find the perfect gift assistant who can create the dreamy baby gift box or perfect baby shower gift and insist on including a Nail Snail®. If you're a gift business, have a keen eye and only want the very best for your customers, please contact us HERE or email customerservice@nail-snail.com, we would love to help you put the best ever baby nail trimmer in their hands.
- Summer Vrhovac